Cost
Simply the best of everything
MY Scubaspa Ying and Yang dive boat review
MY Scubaspa Ying and it's sister vessel MY Scubaspa Yang are operated by the Maldivian Liveaboard Scubaspa company, based in Male, Maldives.
They describe themselves as a luxury level holiday provider, offering the scuba diving and spa relaxation experience the name suggests. Both of these large safari yachts are purpose built to cruise in the paradise-like waters of the Maldives. A pair of floating luxury resorts, M/Y Scubaspa Ying and M/Y Scubaspa Yang offer everything required for divers and non-divers alike.
You can check the availability and prices for the ScubaSpa YANG boat
The M/Y Scubaspa Ying and Yang were built and launched in 2013. Both of these identical vessels were designed and sculptured specifically for purpose, the result of decades of decades of dive boat evolution. They are trimmed with fine imported materials to create a comforting balance of light and texture and to offer guests the intimate feeling of a luxury resort with the required space and privacy.
At 50m long and 11m beam the Scubapro Ying and Yang liveaboards are two of the largest safari vessels cruising the Maldives.
You can check the availability and prices for the ScubaSpa YING boat 
Cabin & Layout review
M/Y Scubaspa Ying and Yang have 4 deck levels comprising 21 cabins catering for a maximum of 40 guests. There are a choice of cabins to suit requirements and budget; from Sea Star cabins through to the larger Cowrie and Manta Suites.
There is a traditional diving Dhoni to accompany the main vessel. This acts as a base for diving activities and also, crucially, is an evacuation vessel capable of carrying all guests and staff in the event of an emergency.
Scubaspa Ying and Yang Maldives Itineraries
The M/Y Scubaspa Ying and Yang itineraries vary between North or South Atoll routes, so investigate which Maldives dive sites interest you before booking. In addition to scuba packages, there are specific Spa, Scuba Taster and even Honeymoon packages available to suit your particular requirements.
As you would expect at this level of luxury cruise vessel, every cabin or suite enjoys spacious accommodation – whichever you choose; finished in the most beautiful materials and to the highest standard. Each cabin has it's own climate control and ample under-bed luggage storage and wardrobes.
Outside of the cabins the MY Scubaspa Ying and Yang has every conceivable facility. Specially designed terraces for sun worship, Spa facilities for you to relax and unwind and two bars.
Cuisine onboard
The restaurant presents a varied cuisine combining fresh produce with the finest wines, whilst delicious refreshments are in constant supply throughout the day!
Safety of guests is a priority and, as expected, there is full safety facilities onboard from fire detection systems, emergency lighting, first aid kits and oxygen.
With regard to budgeting for this vessel, expect upwards of USD2,300 to USD3,500 for one the more luxurious cruises. Not inexpensive but a stunning option for your Maldivian cruise!
Where does this liveaboard dive boat go?
Check out the fabulous places where this dive boat travels to.
Note: some destinations may not be listed below, please enquire for more details.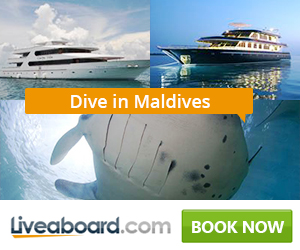 Great Drift Dives, amazing place for underwater photography. Good chance of spotting Manta Rays and Whale Sharks!
Other Liveaboard Reviews in Maldives
Dive spots reviews in Maldives
No dive sites reviews found