Cost
Expensive, and Luxury!

MV Nouran dive boat review
The 36 meters MV Nouran is a liveaboard operating on the Red Sea. Indeed, the dive boat, owned by the Red Sea Explorer fleet, offers scuba diving cruise on many of the best Red Sea's dive sites. Please note, the Miss Nouran is a different boat, we know the names can be confusing so we'd rather make this clear from start!
.
Boat cabins & Layout
The MV Nouran can welcome a maximum of 24 guests comfortably. Indeed, the vessel features a total of 12 cozy cabins. The cabins are fully furnished, with comfortable mattresses, pillows and linens. Also, there is air-conditioning, a mini-bar as well as an en-suite bathroom in each rooms.
Visit this page to compare liveaboard & prices on the Red Sea!

.
MV Nouran's On-board facilities
The main deck of the MV Nouran is all set to welcome divers in style and comfort. Indeed, you will find a vast air-conditioned room which displays a restaurant-like dining area and a lounge. The dining room feature plenty of space for everyone to eat comfortably. Moreover, the living room has a big television screen and a complete entertainment system for you to freely use!

.
Furthermore, as you step outside, you will notice great lounging spaces along with a beautiful view of the Red Sea. There's an uncovered sundeck located at the bow and a covered one, located at the aft of the main deck. Finally, the top skydeck is impressively spacious and features plenty of bench-like seating and tables.

.
Scuba Diving with the MV Nouran
The MV Nouran has a full scuba diving crew on each liveaboard trip. Indeed, dive masters and guides will be there to share their experience and assist you through a great diving adventure. Moreover, the ship is equipped with the latest navigation and diving technologies.
---
Please visit the liveaboard's website to view prices and schedules.
Where does this liveaboard dive boat go?
Check out the fabulous places where this dive boat travels to.
Note: some destinations may not be listed below, please enquire for more details.

Other Liveaboard Reviews in Red Sea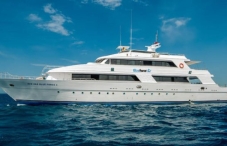 The 40 meters Blue Force 3 is a luxury l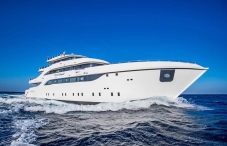 The SS Glorious Miss Nouran Liveaboard i
Dive spots reviews in Red Sea