Cost
Expensive, and Luxury!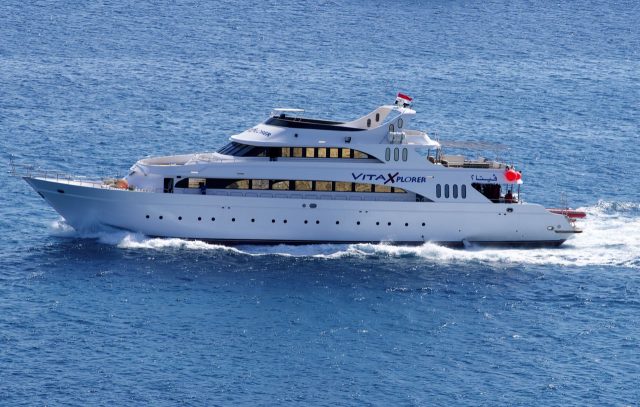 Vita Xplorer dive boat review
The 39 meters Vita Xplorer is a liveaboard operation many itineraries on the Red Sea. Built in 2006, the dive vessel has undergone thorough  renovations in 2015.
.
Boat Cabins & Layout
The Vita Xplorer has a total of 12 cabins to welcome up to 24 divers on-board. The cabins are located either on the lower or main deck. Indeed, there a 9 cabins with twin beds and 3 cabins with king size beds. Moreover, you will find plenty of storage in the rooms as well as a mini bar. Also, there is air-conditioning and a private-ensuite bathroom in every cabin.
Visit this page to compare liveaboard & prices on the Red Sea!
Vita Xplorer's On-board Facilities
The inside of the Vita displays large communal areas both on the main and upper floors. Indeed, you'll will find a spacious dining area with buffet bar on the main deck. Moreover, the upper deck is home to a spacious salon which is air-conditioned, featuring wi-fi (when available) and a complete audio/video entertainment system.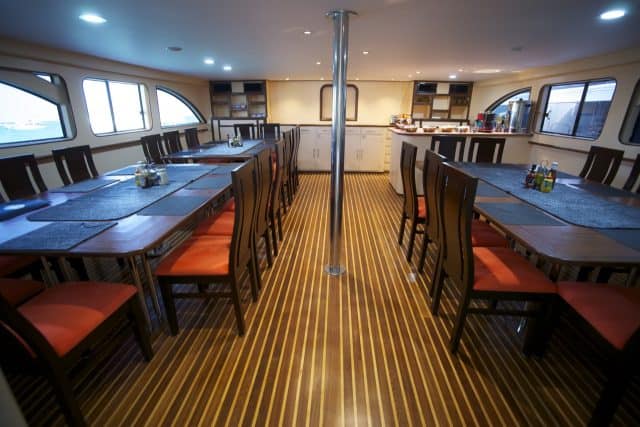 .
Furthermore, if you step outside on the upper deck you will get in an extensive lounging area. There is a corner bar, where you can get snacks and refreshments, and a choice of tables or couches to hang out in comfort. Finally, as you walk upstairs to the very top sundeck, you'll discover a whole new point of view of the Red Sea. There are loungers and tables available for your comfort.
.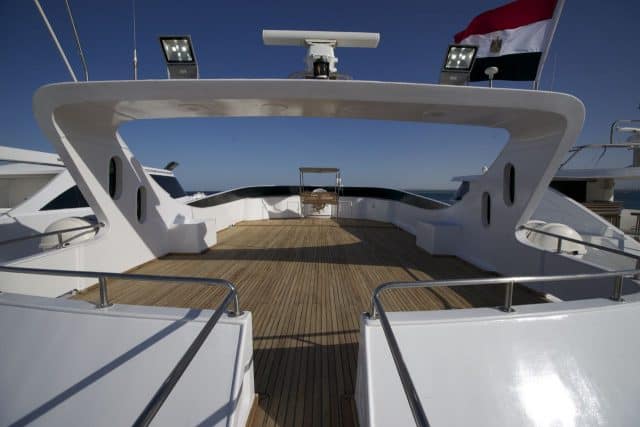 .
Vessel Layout
The Vita Xplorer is equipped with all the latest navigation and safety technologies. The only  sistership of the Vita is the Okeanos Xplorer, also cruising the Red Sea.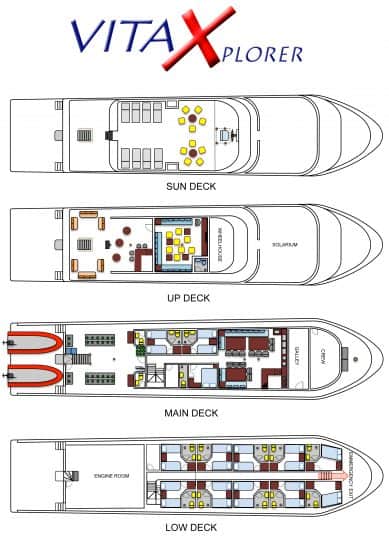 Scuba Diving with the Vita Xplorer
The Vita Xplorer is owned by the Xplorer fleet, which has been operating for many years on the Red Sea. Indeed, you will surely live an incredible adventure, guided by professional and skilled dive master.
The dive deck is located at the aft of the main deck and features just about everything a diver might need. Indeed, there are rinse tanks, fresh water shower and convenient ladders to help the operation from the dive deck.
---
Please visit the Xplorer's webpage for price lists and schedules. 
Where does this liveaboard dive boat go?
Check out the fabulous places where this dive boat travels to.
Note: some destinations may not be listed below, please enquire for more details.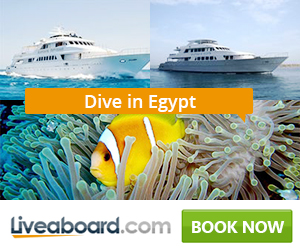 Other Liveaboard Reviews in Red Sea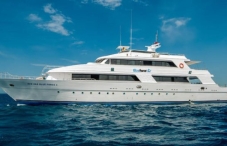 The 40 meters Blue Force 3 is a luxury l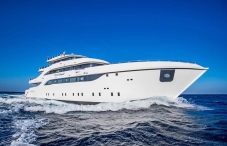 The SS Glorious Miss Nouran Liveaboard i
Dive spots reviews in Red Sea