Cost
Expensive, and Luxury!
Hatiku dive boat review
The Hatiku is a sturdy 38 meters vessel operating as a scuba diving liveaboard in Indonesia. Indeed, with highly ranked destinations like Komodo and Raja Ampat on it's route, the Hatiku is sure to impress.
.
Boat Cabins & Layout
The Hatiku welcomes a maximum of 12 divers on each voyage. The 6 cabins are spacious and feature a warm interior decoration which invites to calm and relaxation. The cabins each feature twin beds, but in two cabins it's possible to convert the bed into a double one. Indeed, both dive buddies and couple can settle in comfortably! Moreover, the cabins all come with ample storage, an en-suite bathroom including hot water showers and air-conditioning as well.
Visit this page to compare liveaboard & prices for Indonesia!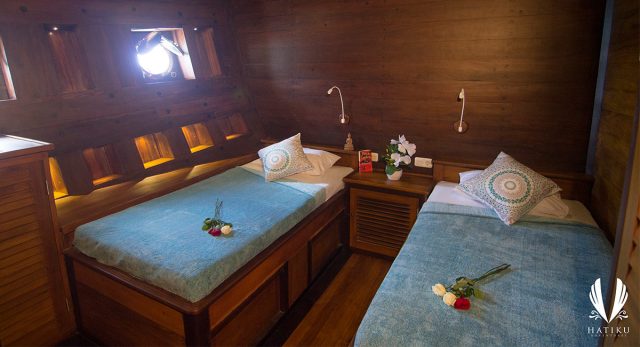 .
Hatiku's on-board facilities
The Hatiku's interior was crafted in teak and iron wood for a lavish look. There sure is plenty of space for every diver to settle in comfortably and enjoy the trip. First, the salon and dining room provides panoramic views so you can enjoy the landscape in the comfort of the air-conditioned interiors. Meals will be served there, as pictured below.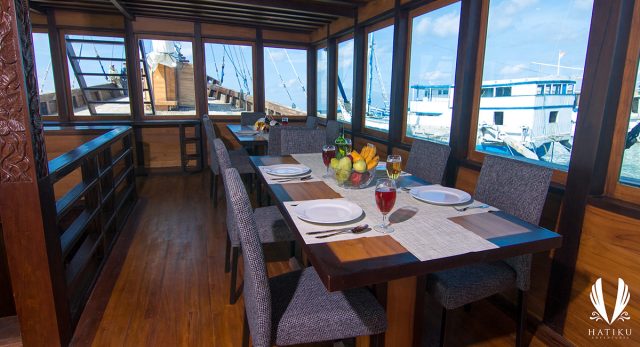 .
Furthermore, the outside of the Hatiku provides more than enough space to lounge, enjoy the sun and the fresh air. Indeed, the huge sundeck located on the upper deck features lounging chairs and bean bags for everyone to be comfortable. Sun lovers and star gazers should be thrilled.
At the stern, you'll find a second outdoor deck where to hang out. Indeed, it's shaded space fitted with cushioned seating and tables. Also, the main deck has multiple uses including diving and lounging. It's partially shaded so that's makes it one more spot to hang out between dives.
.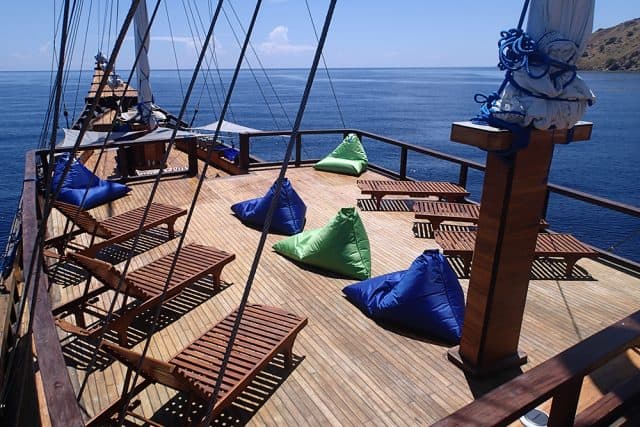 .
Diving with the Hatiku
The Hatiku liveaboard takes you to Komodo or Raja Ampat, which are both arguably the best dive spots of Indonesia. The dive vessel has a dedicated briefing and camera room ready to welcome divers before and after dives to plan and then debrief. Also, the rest of the time, this room can be used by anyone needing to work on their cameras, pictures, etc.
The whole scuba diving operation is conducted from the tenders and dives are usually done in groups of 6. The professional dive masters and dive guides will always assist at every step, from gearing up to rinsing up everything at the end.
Finally, needless to say that the dive boat is equipped with all the latest navigation and scuba diving technologies… in safe hands you are!
---
Prices vary according to dates, itineraries and duration.
Please visit the Hatiku's website to view the complete schedule.
Where does this liveaboard dive boat go?
Check out the fabulous places where this dive boat travels to.
Note: some destinations may not be listed below, please enquire for more details.

Other Liveaboard Reviews in Indonesia & Komodo Island & Raja Ampat
Dive spots reviews in Indonesia & Komodo Island & Raja Ampat