Cost
You will not find cheaper!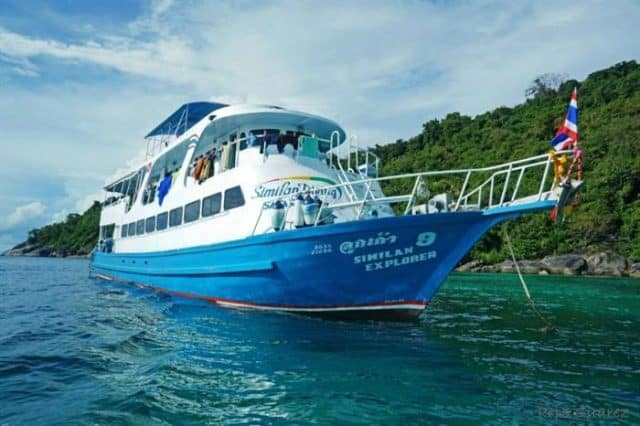 MV Similan Explorer dive boat review
MV Similan Explorer is the liveaboard vessel of Similan Dive Safaris – a 5 Star PADI dive centre based in Khao Lak – just 70km north of Phuket. Similan Diving Safaris have been operating in the area for 16 years and have excellent local expertise in liveaboard voyages to the Similan and Surin national parks.
Touring from the 9 Similan islands north to Koh Bon, Koh Tachai and Richelieu Rock; the diving is varied and offers something for divers of all abilities.
Shallow sandy reefs on the east side of the Similans are abundant with shoals of snapper, angelfish and butterfly fish. The western side of the islands are host to huge granite formations, swim-throughs and swooping topography lined with gorgonian fan corals. There is also the chance of something bigger passing in the blue such as a school of barracuda, hunting trevally, manta ray or whale shark. Sometimes currents help assist you through the dive sites – and many dives are drift dives with local guides to allow you to relax and take in the breathtaking scenery. With water temperatures in the 27-29c range and great visibility, the diving is superb.
MV Similan Explorer, is a wooden mono-hull diving vessel powered by a 350hp engine. This allows her to cruise between sites at 8 knots. She is 25m in length and 7m in beam, making her comparable in size with competitor MV Giamani. Renovated each year during the closed season to ensure her standard is maintained, she has a full compliment of safety equipment. The vessel has life rafts, GPS, first aid and the staff are first aid trained in the event of an issue.
You can check the availability and prices for this Boat here.
Cabins and Boat Layout
MV Similan Explorer has berths for 18 divers over her 3 decks. The three cabin options are as follows:
2 x Quad Cabin – ideal for a group of friends or family on a budget. 4 single bunk beds in one cabin.
4 x Twin Cabin – twin bunk beds in a cabin on the main deck.
Double Cabin – located on the upper deck with sea views, this cabin has a double bed.
Centrally air-conditioned and with 220v power points, the cabins are simply decorated in a traditional Thai style.
On the upper deck is a dining area with 1 table on the port side and 2 table on the starboard side. It also serves as a shaded relaxing area between dives. Also on this deck you'll find TV, DVD player and stereo system. Feel welcome to bring your MP3 player and play some of your own music too! There are fish ID books onboard to help you record what you've seen on the dives. And a constant supply of snacks, fruit, tea, coffee and water in the unlikely event that you're hungry between meals.
Up on the top deck is a sun-deck with mattresses. Lie here and soak up the sun in between dives. Or chill here in the evenings and look at the stars. The choice is yours.
Meals are a plentiful buffet-style combination of western and local styles. Typically, food is cooked to the taste of the group onboard – so don't worry about the famous Thai chillies!
Diving onboard MV Similan Explorer
Before each dive site, which is chosen according to the prevailing conditions, you'll briefing before by one of the diving professionals onboard.
Nitrox is available onboard for those qualified. Or, if you should wish to learn – why not extend your diving knowledge onboard?
The tanks onboard are INT fitting 12L tanks as standard. However should you require a 15L tank or DIN adaptors they're available to hire.
The diving logistics are perfect for the lazy diver. Generally entering the water from the main vessel, many dives are drifts where you'll be picked up by the main vessel or diving tender at the end of each dive.
Itineraries
Departing from Tapla Mu pier in Phang-Nga province, the itinerary is usually 3 days/3 nights taking in the best sites. Dive site selection is obviously subject to the prevailing sea conditions but aims to head as far north as the famous Surin Park/Richelieu Rock.
Expect to pay just EUR362 for a 3 day trip. This equates to EUR90/day, making Similan Explorer a bargain. Please note that this does not include some extras such as port/marine park fees, soft drinks, alcoholic drinks and course undertaken on the trip. Please contact us for further details.
Where does this liveaboard dive boat go?
Check out the fabulous places where this dive boat travels to.
Note: some destinations may not be listed below, please enquire for more details.

Other Liveaboard Reviews in Khao Lak & Similan Islands & Surin Islands & Thailand
Dive spots reviews in Khao Lak & Similan Islands & Surin Islands & Thailand