Cost
Expensive, and Luxury!
MV Tarata dive boat review
Owned by the Grand Komodo Fleet, the MV Tarata operated as a liveaboard in Indonesia. Indeed, the vessel, built in 1995 and thoroughly renovated in 2015, offers great itineraries in the Komodo National Park.
.
Boat Cabins & Layout
The medium sized dive vessel welcomes up to 12 people on each scuba diving expedition. Indeed, with 6 comfortable cabins on-board and enough communal areas, that's plenty of space for everyone. The air-conditioned cabins provide you with comfortable bedding and plenty of storage space. Plus, each cabin has it's own private bathroom. Moreover, the cabins either have a double bed, or bunk beds.
Visit this page to compare liveaboard & prices for Indonesia!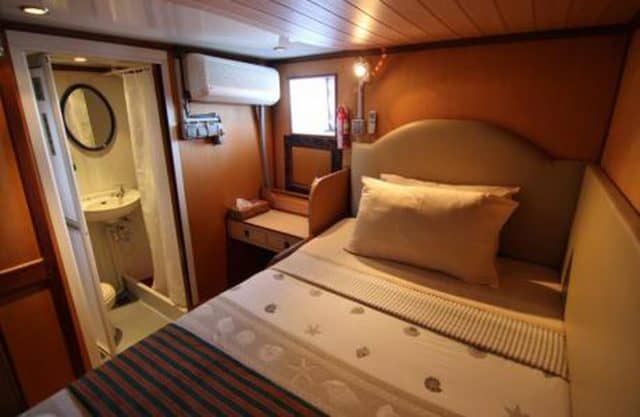 .
Tarata's On-board Facilities
The Tarata has been fully renovated and the communal areas now have a fresh and lavish look. Indeed, the salon and dining area are looking good and are ready to welcome you on-board to enjoy delicious meals. The cuisine offered is a mix of Indonesian and international fares, served buffet style. Moreover, the salon features a complete entertainment unit with television and CD/DVD players.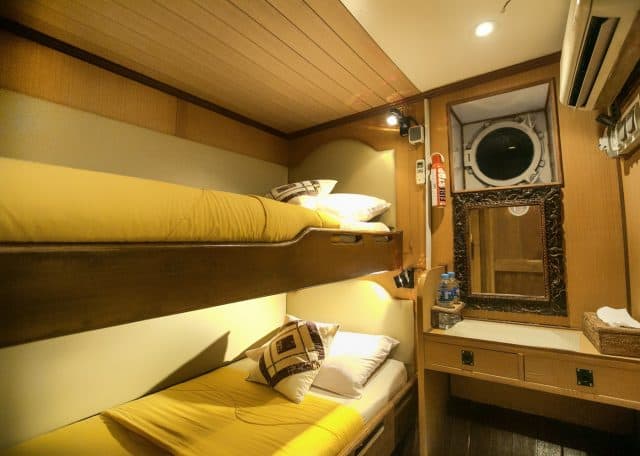 .
Furthermore, as you step outside, you will find an attractive sundeck where you can lounge and enjoy the sea breeze. The partially shaded deck is perfect to either read a book or contemplate the stunning views of Indonesia.
.
Vessel Layout
The all wooden vessel maybe a little old but with the extensive renovation done in 2015, it's a new vessel which you will board. The interiors are nice and decorated with warm and bright colors. The Grand Komodo Fleet also owns the Putri Papua, which is comparable to the MV Tarata in term of size and guest capacity. The other fleet's vessel are either smaller, like the Nusa Tara, or bigger, like the Temu Kira.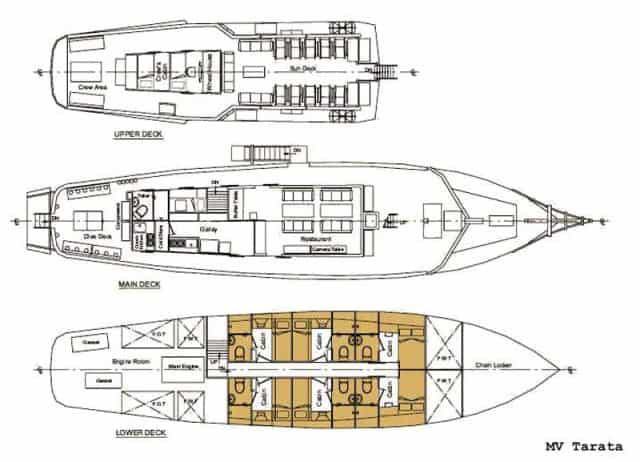 Scuba Diving with the MV Tarata
The dive deck and dive platform of the Tarata are fully functional and well organised. Indeed, with 12 individual kitting up stations and the nearby compressor, your tanks are easily filled all week. Plus, there's plenty of space so it never feels cramped to get your gear on and off. Also, the platform displays a convenient fresh water shower. The professional team of scuba diving instructors and dive guides are always nearby to help and make sure you get the best out of your experience.
---
Please visit the boat's webpage to see price lists and schedules. 
.
Where does this liveaboard dive boat go?
Check out the fabulous places where this dive boat travels to.
Note: some destinations may not be listed below, please enquire for more details.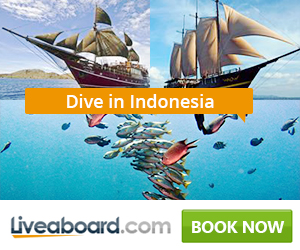 Other Liveaboard Reviews in Indonesia & Komodo Island
Dive spots reviews in Indonesia & Komodo Island