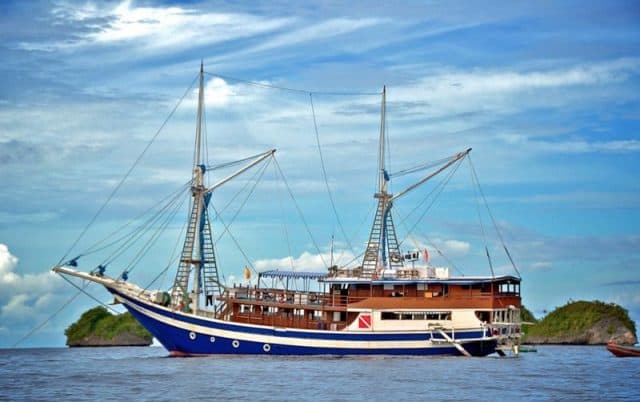 MV Temu Kira dive boat review
The 33 meters TemuKira is a liveaboard operating in Indonesia as part of the Grand Komodo Fleet. The traditional wooden schooner was built in 2004 and offers itineraries in Indonesia, concentrating in the Raja Ampat area.
.
Boat Cabins & Layout
The Temu Kira can welcome up to 12 guests on-board each voyage. Indeed, the traditional vessel features 6 comfortably appointed cabins. There are two cabins fitted with bunk beds while the 4 others have double beds. Moreover, the rooms each have their own en-suite bathroom, air-conditioning and plenty of storage space for your belongings.
Visit this page to view schedules and prices for this liveaboard. 
.
Temu Kira's On-board Facilities
Indoor on the Temu Kira, you will find a spacious air-conditioned lounge. It's indeed the perfect place to escape the hottest days and enjoy a book or the multimedia entertainment unit. Most noteworthy is that the dive vessel features a dedicated camera station where you can work and charge your batteries.
.
Furthermore, as you step outside you will find a generously sized sundeck ready to welcome the 12 divers. Indeed, the relaxation space is perfect to enjoy the beautiful views of Indonesia. You can soak in the sun rays or stay cool under the awning, laying on the many loungers.
.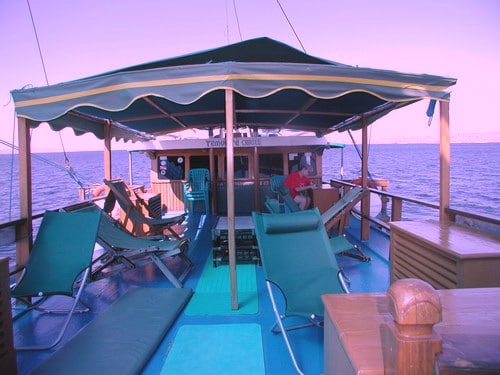 .
Vessel Layout
The Temu Kira was built following the traditional Indonesian techniques and is all in quality and beautiful wood. The dive boat is a member of the Grand Komodo Fleet, which also own the very similar Raja Ampat Explorer. The two ships are similarly sized, with the Temu Kira welcoming 12 guest instead of 14 for the RA Explorer.
.
Scuba Diving with the Temu Kira
The Temu Kira has been providing quality dive cruises for a while in many areas of Indonesia. Indeed, the professional dive guides and instructors have lead divers to amazing encounters in Komodo, Raja Ampat, Alor, Ambon and much more. The dive boat is fitted with the upgraded navigation and safety technologies and meets the international standards. Also, the Temu Kira has a diving tender to make the whole scuba diving operation easier. Finally, you'll find on this traditional boat a well organized sundeck with 12 individual gear-up stations and plenty of space to roam around.
---
Prices starting at 2,010$US for 7 days/ 6 nights – Raja Ampat
Where does this liveaboard dive boat go?
Check out the fabulous places where this dive boat travels to.
Note: some destinations may not be listed below, please enquire for more details.

Other Liveaboard Reviews in Indonesia & Raja Ampat
Dive spots reviews in Indonesia & Raja Ampat