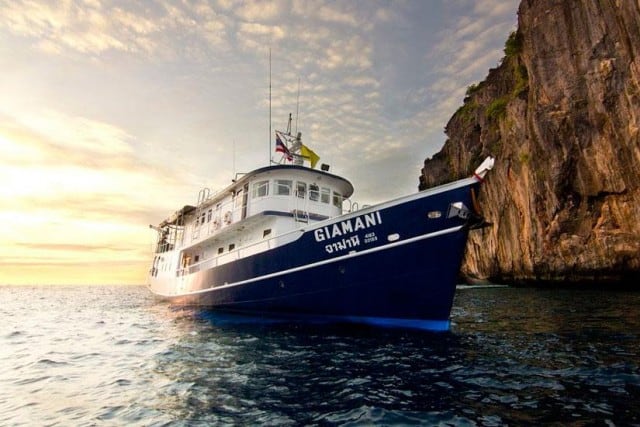 MV Giamani dive boat review
The MV Giamani is owned by Colona Liveaboards and tours from Southern Thailand to Myanmar at the more northern reaches of the Andaman Sea.
Built in 1988, the MV Giamani is steel-hulled – something less common in the usually wooden-hulled Thailand liveaboard market. She is 24m in length and 6.5m wide. Smaller than The Junk, but very different in style.
You can check the availability and prices for this Boat here.
Liveaboard layout
The MV Giamani features 2 decks for customers.
On the Upper Deck are the standard cabins (twin beds with a shared bathroom), saloon and dining area.
On the Main Deck there is Master Cabin with a double bed and two bunk beds that may be converted into a sofa for relaxing during the day, the galley and the dive deck.
Cabins
All cabins are air-conditioned for your comfort should you wish to escape the warm temperatures of Thailand and have a 220v electricity supply 24hours a day.
Other facilities include hot/cold water showers, daily housekeeping service, audio and visual entertainment centre and camera tables and associated fresh water tanks.
The Giamani liveaboard aims for a smaller, more intimate atmosphere onboard with the number of guests normally limited to 12 – despite the maximum capacity being 16 divers onboard.
Scuba Diving
Included in the price is tank and weights, torches (for night diving where appropriate), guide, tea, coffee, water and, of course, all meals onboard. You won't go hungry onboard at there is a selection of Thai and western food available onboard.
Should you wish to make the most of your time in the water there are two Bauer compressors which for a small charge of THB250 per fill can provide you with Nitrox – when qualified. Additional fees to be aware of are the national park fees for entering the Similans/Surin national parks.
Sensibly, diving computers are mandatory on this vessel. So, if you do not have one please budget THB300 per day for computer rental and THB800 per day for equipment hire.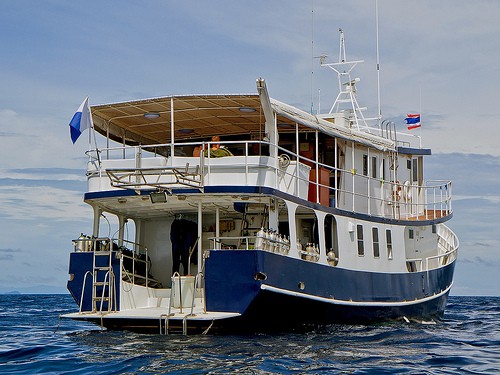 However, what really sets apart MV Giamani diving boat is the sheer diversity of itineraries available – with the following schedules on usually offer to suit all tastes.
• 6 days/6 nights – Diving Myanmar (Burma) Safari
• 2 Day/1 Night – Phi Phi Island Overnight (Mid May to Mid October)
• 2 Day/2 Night – Southern Island Liveaboard Cruise
• 2 Day/3 Night – Koh Raya Noi & Phi Phi Islands (Mid May – Mid October)
• 4 Day/4 Night – Similan Island & Richelieu Rock Cruise
• 6 Day/6 Night – Northern & Southern Cruise Combo
• 6 Day/6 Night – Similans & Richelieu Rock Cruise
Prices for the different MV Giamani itineraries and options vary hugely from THB22,000-THB77,000 dependent on cruise.
Our tour of choice would be the 4 Day/4 Night Similan and Richelieu Rock tour taking in some of the best the Andaman Sea has to offer.
Where does this liveaboard dive boat go?
Check out the fabulous places where this dive boat travels to.
Note: some destinations may not be listed below, please enquire for more details.
Other Liveaboard Reviews in Khao Lak & Phuket & Similan Islands & Surin Islands
Dive spots reviews in Khao Lak & Phuket & Similan Islands & Surin Islands