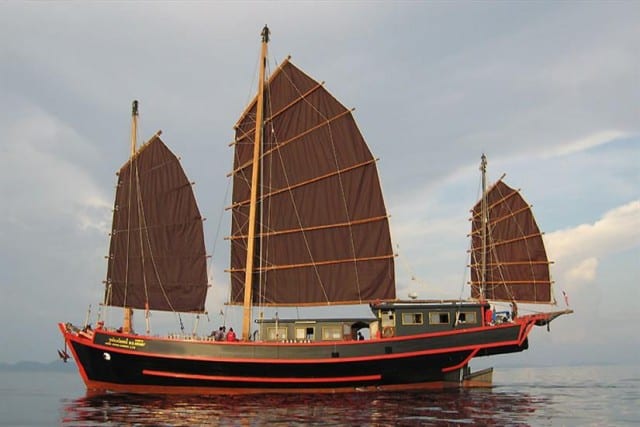 The Junk dive boat review
A unique experience, The Junk "June Chian Lee" ("Respect Wind Travel Forever") was originally built and launched in 1962. Unlike any other diving vessel touring the Indian Ocean around Thailand, The Junk was originally a working ship manufactured to carry up to 60 tons of cargo!
In 1985 The Junk was then converted to perform it's new role, as a classic yacht. Then, finally, in 1998 the vessel found it's calling; being refitted and refurbished – it's owner describing it as 'authentically renovated' as a diving yacht liveaboard.
The Junk is now the only liveaboard of this age and heritage left in operation. Truly one of a kind!
You can check the availability and prices for this Boat here.
The Junk liveaboard is both engine and wind powered. Featuring a 380hp engine and also the capability to harness the wind.
At 33m long and with a beam of 8.5m the vessel is a considerable size. However, due to it's unique and charming layout direct comparisons with it's modern competitors and peers are futile.
Cabins and boat layout
Featuring 2 deck levels to accommodate 18 Diving guests and 10 crew, The Junk has 2 private double-bed cabins, 2 three-berths cabins and 2 four-berths cabins.
All cabins have full air-conditioning should you wish to escape the tropical heat and, also, have their own shower and toilet facilities en-suite.
In addition to the comfortable cabins, The Junk diving boat has many of the modern amenities and facilities. There is a library of books, a collection of movies available to watch and a stereo system.
The meals onboard are international cuisine served by the chef onboard. And, with the tropical climate of Thailand dining outside is the norm – admiring the beautiful sights of Koh Bon, Koh Tachai or the Similan Islands as you eat.
Scuba Diving
Diving onboard is conducted using the super-experienced dive crew dinghy drop-off/pick-up to allow you to get close to the island and reefs' best diving sites. With each dive you receive an individual briefing and are accompanied by an experienced guide or instructor.
Should you wish to continue your diving education or venture a little deeper, continuing education courses are available onboard and recommended.
2 compressors onboard fill 40 cylinders in between dives and, should you wish to make the most of your bottom time, Nitrox is available onboard for a relatively small fee. Or alternatively, why not become Nitrox trained on your cruise!
Despite it's vintage The Junk has all the expected safety facilities. Oxygen and First Aid. Lift Jackets and Rafts. All is catered for.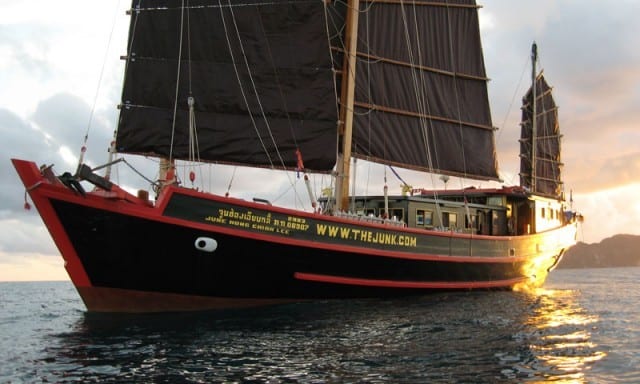 A range of itineraries are available. Ranging from THB27,000 for a 5 Day/4 Night cruise to THB50,000 for a double/twin share on the 7 Day/6 Night cruise.
Each cruise travels from the Similans to the Surin Islands at the northern-most point of the tour.
Where does this liveaboard dive boat go?
Check out the fabulous places where this dive boat travels to.
Note: some destinations may not be listed below, please enquire for more details.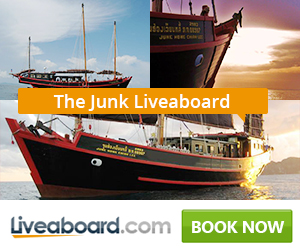 Other Liveaboard Reviews in Khao Lak & Phuket & Similan Islands & Surin Islands
Dive spots reviews in Khao Lak & Phuket & Similan Islands & Surin Islands